If you've seen flowers still blooming into the holiday season, it could be an Aster. Fall Aster varieties are native and are available in an assortment of colors and sizes. Read on to learn about choosing Asters for fall color.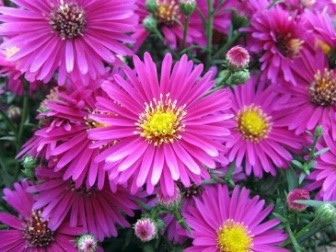 New York Asters are medium-sized perennials that range from 2-4 feet tall. They have smooth leaves and come in shades of pink and purple. I like to combine them with ornamental grasses and colorful fall foliage.
New England Asters are great choices for tall pops of Fall color. These varieties have hairy leaves and are usually 3-4 feet tall. Aster 'Kickin Carmine Red' is a compact example, with vibrant color that stands out and attracts late season pollinators.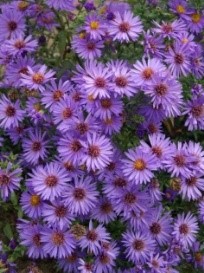 Wood Asters are a nice option for areas with some shade. Many Wood Asters can reach 4-6 feet tall. Compact varieties, like Aster 'Woods Purple', only reach 8-16" tall. The light purple blooms look nice paired with Fall foliage like a red Blueberry Bush or purple Loropetalum.
Looking to add some fall color to your garden? Contact Bright Leaf Landscaping at (919) 619-4460 or fill out our online contact form. Design and installation are our expertise, and we are always happy to meet with new clients to discuss potential projects!