Durham Landscape Design Services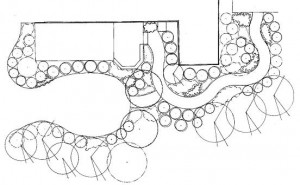 Bright Leaf Landscaping is proud to offer clients in Chapel Hill and Durham landscape design services. Our passion is fully understanding and translating our clients' needs, preferences and budget into the yard of their dreams. Please read more about our process and find out why we are the Durham landscaping company of choice.
Step 1 – Consultation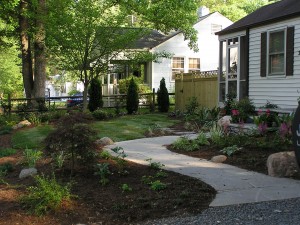 We begin the landscape design process by meeting with potential clients during our consultation. For convenience, evening and weekend appointments are available. One of our Durham landscape designers will visit the property, take all necessary measurements, and evaluate light and soil conditions. We will then discuss style, color, plant preferences, day-to-day uses of the space as well as options for entertainment, and any other considerations such as landscaping for privacy needs, container plant design, and whether or not the family has small children, pets, or pests such as rabbits and deer.
Once our Durham landscape designers have a sense of the client's needs and preferences they will use their own unique perspective, knowledge, and experience to develop a design proposal. All plants included in the design will be chosen for their ability to thrive in central NC.
Step 2 – Landscape Design
The next step is to schedule a design presentation meeting. This presentation will include a plan view landscape design, color plant photos, and a plant list. Clients are encouraged to ask questions and raise concerns they may have. If revisions are needed the Durham landscape designers will propose solutions and make any needed design alterations. Installation cost and possible project phasing will also be discussed at this point.
Step 3 – Installation and Project Management
After all design revisions have been made, the Durham landscape designers will schedule a date to begin the project installation. All plants and site materials will be hand-selected by our landscape designers. The landscape designer will oversee the entire installation process to ensure quality and address any problems that may arise. If subcontractors are necessary to complete your project, we will coordinate all services and act as the single point of contact. Our clients' only task is to simply relax and enjoy their beautifully designed, on-time and on-budget project.
Contact us or call 919-475-1015 for your free consultation.