About Our Durham Landscaping Company
We began Bright Leaf Landscaping in 2006 to provide clients with a Durham landscaping company that specializes in residential and commercial design, project management, and installation. Since then, we've expanded our services to include landscaping for privacy and container plant design and our service area to include Chapel Hill, Hillsborough and surrounding areas. Owner and landscape designer Jonathan Smith takes pride in every Bright Leaf project and is involved from concept to completion. This allows for subtle adjustments along the way, making sure each landscape is unique and meets our exacting standards.
We specialize in Durham landscape design, installation, and project management. Our goal is to create unique, functional landscapes and outdoor living spaces for clients with an appreciation for outstanding horticulture and design. Our commitment to quality, timeliness and professionalism is achieved through relationships with quality vendors, contractors, and artisans who share our attention to detail and pride in a job well done. The culmination of these factors and years of training and experience result in landscapes that our Durham landscaping company and customers can be truly proud of for years to come.
Bright Leaf Landscaping is an Accredited Member of the BBB, Member of the NCNLA and is a NC Registered Landscape Contractor #1761.
Jonathan Smith, Owner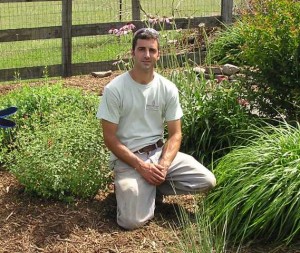 Owner Jonathan Smith moved to Durham in 2002, after completing his BS in Horticulture from Delaware Valley College in Pennsylvania, and accepted a position at Durham's Sarah P. Duke Gardens. During his five years at Duke Gardens, Jonathan worked on installation and maintenance projects throughout the 55 acre gardens, taught classes, and constructed displays for the North Carolina State Fair and The National Botanical Garden in Washington, D.C. He also became acquainted with some of the best vendors and contractors the Triangle has to offer and gained invaluable experience in horticulture and landscape design.
His dedication to fine horticulture led him to continue his education by taking courses in landscape design, construction, and plant identification and by visiting and studying many of the premier botanic gardens in the Mid Atlantic and Southeastern US. It was also during this time he began the small design and build company which became Bright Leaf Landscaping.
Beth Rudd-Myers, Landscape Designer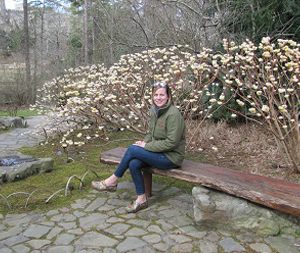 After graduating from the Landscape Design program at George Washington University, Beth worked at Virginia's premiere garden center where she developed exceptional skills in both plant knowledge and customer service. She learned how to interview clients and interpret their wants and needs into a beautiful and functional landscape.
Beth relocated to NC in 2009 where she was chosen to participate in the Duke Gardens' internship program before being hired as a designer and installer by Bright Leaf Landscaping.  She has spent the last 8 years leading our design team, managing plant purchasing, and honing her skills as a designer both by working with our clients and as an avid home gardener.  In the last few years she has been especially happy to see former clients return to Bright Leaf Landscaping for help with the landscape design of their new homes.
Michelle Wilson, Landscape Designer
Michelle spent her early years in Durham and later attended NC State University, where she studied Landscape Design. During college, she traveled abroad with the Horticulture Department, accepted a groundskeeper internship for the J.C. Raulston Arboretum, and worked as an upscale residential gardener. After graduating with a BS in Horticulture and a double minor in Botany and Biology, she relocated to Durham.
Michelle used her plant knowledge and landscape maintenance skills to work for a nationwide green roof grower and supplier. In addition to farm and project management, she gained office, sales, and marketing experience as the office manager for 7 years. Michelle excelled at customer service, communication, and organization. She was hired as a landscape designer by Bright Leaf Landscaping in 2015 and is dedicated to translating the client's vision into a creative outdoor living space.