Dry creek beds have gained popularity for stormwater management. They can be successfully designed when considering 3 elements: Environment, Shape, and Planting. Read on to learn more about 3 elements for dry creek bed design.
The surrounding environment is an important element when considering a dry creek bed. If you live near a river, creek, or wooded area, one can fit into your landscape seamlessly. If you live a suburban lot, it may look out of place. The goal is for it to look natural.
Poor Design – Looks Out of Place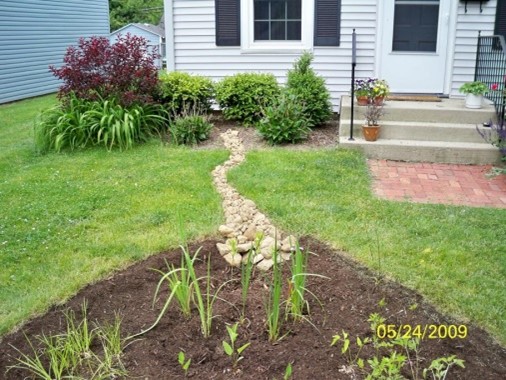 Shape is another element of a natural-looking dry creek bed. Avoid a straight line and go for a serpentine or irregular shape. Another way to create a natural shape is to use a variety of sized rocks. Sizes can range from boulders to river rocks, depending on the scale of the project.
Nice Design – Irregular Shape, Variety of Rock Sizes, Low Plantings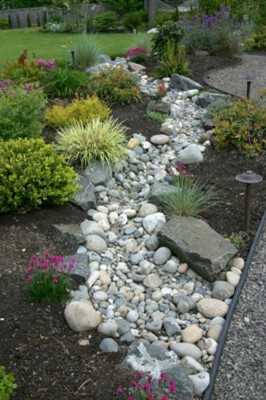 The third element to a successfully designed dry creek bed is plants. Plants can soften the look, add color, and attract wildlife. I'd suggest incorporating low growing plants like Acorus, Sedge, Variegated Iris, or Christmas ferns.
 Need a dry creek bed planting? Contact Bright Leaf Landscaping at 919.619.4460 or fill out our online contact form. Design and installation are our expertise, and we are always happy to meet with new clients to discuss potential projects!