When I moved into my house in Durham several years ago I noticed that one of the garden beds planted by the previous homeowners was full of a low growing, evergreen plant.  I wasn't sure what the plant was, so I left it for the time being and worked on other projects.  Come spring I was surprised to find that the plants were full of strawberries, and that they had produced more fruit than we could eat, without any care or maintenance.  Now when clients ask about incorporating edibles into their garden, strawberries are often the first plant that I suggest.  Read on to learn about adding strawberries to your garden.

(Strawberry plants in the garden and 1 day's harvest of strawberries from the patch in my garden)
Adding strawberries to your garden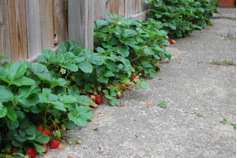 (Strawberries as an edging plant and a chartreuse leaved variety planted with perennials)
Strawberry plants, like most edibles, need full sun to fruit their best.  Their foliage is low growing – reaching less than one foot in height.  They also spread significantly – so consider planting them in an area with room to grow, or one that butts up against a walkway or other solid surface.  Also be sure to plant them with plants that can compete with them.  In my garden the strawberry bed also contains a topiary rose tree – the rose tree grows above the strawberries but is small enough not to shade them and the strawberries act as an attractive groundcover.
For information on plant varieties, soil preparation, and other considerations check out this article from NCSU: https://strawberries.ces.ncsu.edu/.
Interested in adding strawberries or other edibles to your garden?  Contact Bright Leaf Landscaping at 919-475-1015 or fill out our online contact form.  Design and installation are our expertise, and we are always happy to meet with new clients to discuss potential projects!