Water is a common element found throughout garden design – often when we meet with clients they ask us about adding a water feature or fountain to their property. Water can add visual interest, sound, encourage wildlife, and be the finishing touch that makes your landscape pop. Water features can also be high maintenance, and we regularly see properties where they have fallen into poor repair and disuse. Read on to learn about some important things to consider when adding water to your garden.
(This fountain creates a centerpiece within the patio above, and is positioned to be viewed from the property owner's home office)
Practical Considerations
Before you add a water feature to your garden consider how much and what type of maintenance will be required to support it. We tend to recommend cast concrete water features (pictured throughout this article) for their low maintenance needs. These fountains need to be drained and covered in the winter to avoid cracking in freezing temperatures. Depending on their reservoir size they can use water fairly quickly in the summer, requiring regular refilling, so position them where you can easily perform these tasks. Also consider how you will power the fountain and whether you will need to run a new electrical line to reach the fountain. While this can be an additional upfront cost, positioning the power source where it can be screened by plantings or other garden elements will provide the best effect.
Aesthetic considerations
(The fountain above was selected for its Asian style and is primarily viewed from the home owners back porch)
Now think about the type of effect you want to create by adding a water feature to your property. Do you want to add a sculptural element? Do you want to view the fountain from inside your house or position it where you will be able to hear the sound that it provides? Adding a water feature to your property can be a significant investment so make sure that you make a thoughtful selection and locate it where it will give you then most enjoyment.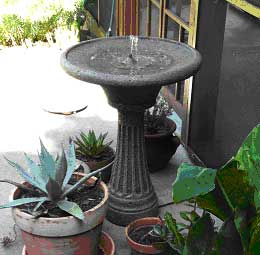 (The fountain above is positioned immediately outside of a screened in porch, where its sound and the birds it attracts can be enjoyed by the homeowners)
Interested in adding a fountain to your garden or designing a garden around an existing water feature? Contact Bright Leaf Landscaping at 919-475-1015 or fill out our online contact form. Design and installation are our expertise, and we are always happy to meet with new clients to discuss potential projects!