When I meet with clients at this time of year a regular request is for evergreen plants. This makes sense to me, when almost nothing is blooming, the fall color season has past and we are months away from the warm temperatures of spring and summer, focusing on evergreen foliage is a logical choice. One of the many lessons that I have learned from working in my own garden is that while some plants are evergreen, they don't necessarily look their best in winter. Read on to learn more.
Evergreen ferns – are they worth planting?
(Autumn fern planted in my yard, after the low temperatures of January 2014).
I love the idea of evergreen ferns. They are fine textured, deer resistant, shade tolerant, drought tolerant plants. But, I have to say that I've been disappointed in many of them as a true evergreen. Autumn fern is one example – I've consistently seen it yellow and burn when exposed to cold temperatures in my yard. After several seasons of this, I've decided that while I will still use this plant, I won't count on it being evergreen, and I'll instead consider it against its deciduous cousins, such as the Japanese Painted fern or
Ostrich fern when designing.
Evergreen Perennials – Bergenia cordifolia vs. Rohdea japonica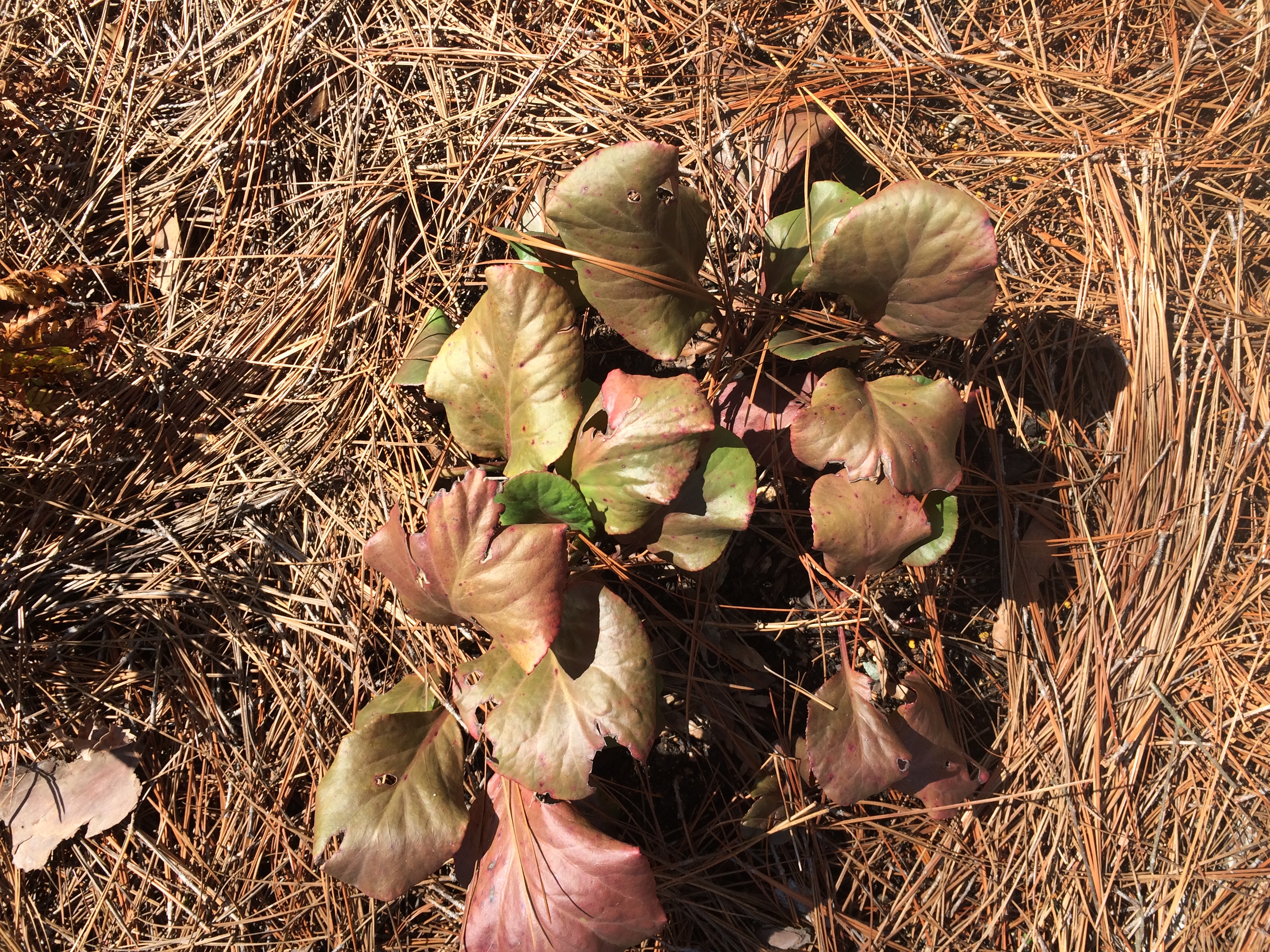 (Bergenia cordifolia and Rohdea japonica planted in my yard, after the low temperatures of January 2014).
I also love the idea of evergreen perennials and was excited to include two in my garden when I designed it a few years ago. The first was Bergenia, which in addition to being evergreen was said to turn red in cold temperatures and to flower. The second was Rohdea, which I liked for its bold texture and shade tolerance. After several winters I can say that the Rohdea has outperformed the Bergenia hands down. Not only has my Bergenia never flowered – I would describe its winter color as brown rather than red.
The Rohdea has stayed a true glossy green, with only minimal discoloration at the tips.
Other interesting plants with truly evergreen foliage are Helleborus orientalis and Osmanthus 'Goshiki'. Interested in adding one of these to your garden? Contact Bright Leaf Landscaping at 919-475-1015 or fill out our online contact form. Design and installation are our expertise, and we are always happy to meet with new clients to discuss potential
projects!