I always encourage my clients to find garden inspiration without worrying about practicality, at least initially. In my last post, I discussed two gardens that served as inspiration for my backyard Covid Project. La Louve and Jardin Majorelle are both stunning and my next step was to figure out how to translate their styles to my ¼-acre residential lot in Durham, NC. My final source of inspiration includes elements of the larger properties but translated to a scale more relevant to my garden. Read on to learn more.
Marquette Clay's Oklahoma City Garden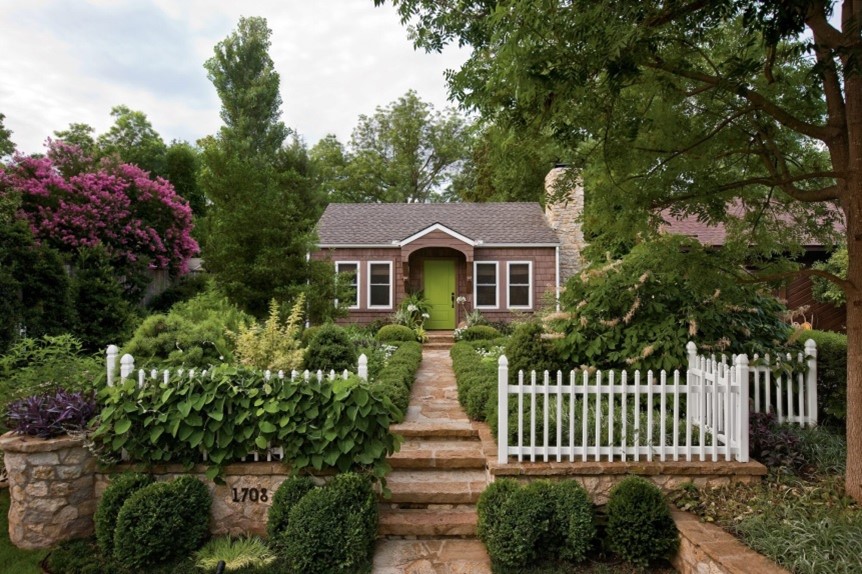 I first came across this garden when it was featured in Southern Living Magazine ten years ago. The article describes Clay's commitment to a simple garden concept, using clean lines and minimal colors – this resonated very much with the design concept at La Louve. But he also incorporated a few bold colors – the bright green front door, lots of purple and chartreuse foliage, and many container plantings which contribute to a feeling of lushness reminiscent of Jardin Majorelle.
Southern Living garden blogger Linda Vater recently created video tours of both the front (https://www.youtube.com/watch?v=XrsivONhgac) and the back yard (https://www.youtube.com/watch?v=1cTyJ7Op3rA) of this stunning property. The simplicity of the front yard reminds me again of La Louve, and the oasis of a backyard feels like an intimate Jardin Majorelle. Definitely check them out!
Need help translating your garden inspiration to your property? Contact Bright Leaf Landscaping at 919.619.4460 or fill out our online contact form. Landscape design and installation are our passion, and we are always happy to meet with new clients to discuss potential projects!