Many of my clients are a little confused when I suggest evergreen shrubs. They automatically think the plant is just a plain green shrub. In fact, evergreen plants are simply those that do not lose leaves in the winter. Read on to learn about some colorful choices for evergreen shrubs.
Encore Azaleas


Encore azaleas are a great colorful option for evergreen coverage in a sunny location. I love these plants because they range in size and come in dozens of colors which can tie into your landscape's color palate. Encore azaleas provide impactful color in both spring and fall. Be sure to avoid pruning in the fall or you'll miss the following spring's flowers.
Loropetalum chinensis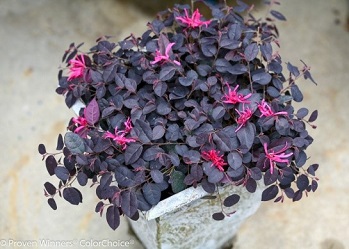 Loropetalum chinensis (Chinese Fringe Flower) is another choice for a double blooming evergreen shrub. It has both purple foliage and pink fringy flowers in spring and fall. Loropetalum is also available in many sizes and provides fragrance. The dwarf variety L. 'Purple Pixie' can be finicky and may need extra TLC in central NC.
Camellia sasanqua and Camellia japonica

Camellias are a colorful choice for fall, winter, and spring. Camellia sasanqua will bloom in the fall and C. japonica will bloom in late winter into spring. They come in colors such as white, pink, and red. I like to use Camellias to anchor the corner of a building or to provide screening. The flowers can be cut and also look nice floating in a bird bath.
Interested in adding colorful evergreen shrubs to your landscape? Contact Bright Leaf Landscaping at 919-619-4460 or fill out our online contact form. Design and installation are our expertise, and we are always happy to meet with new clients to discuss potential projects!