We recently had the opportunity to redesign the container plantings at Fullsteam Brewery in Durham NC. Inspired by the copper color of the containers, the vintage brick, deep red logo and the prospect of fall around the corner we went all in on a fall color palette. Plantings this time of year are often designed around seasonal mums which offer a short term burst of color. Read on to learn what we did instead.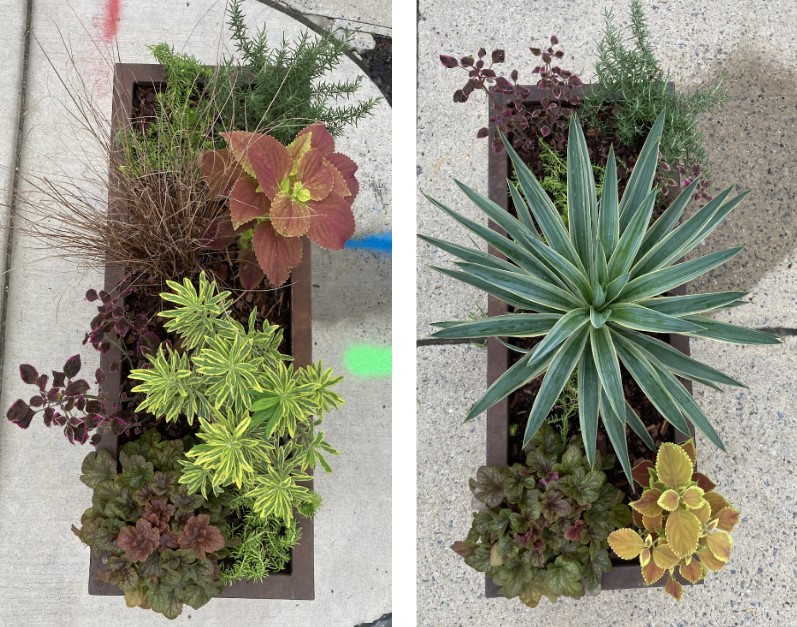 While I enjoy the bright pop of color that mums offer – I don't love their performance, especially in the hot days of early fall. I chose instead to focus on contrasting foliage in shades of copper, orange, gold, gray, and burgundy. Several of the plants are variegated and many have highly sculptural forms. The result is a dynamic planting that doesn't depend on flowers for it's impact. The plant list includes:
Heucherella 'Buttered Rum'
Coleus – multiple varieties
Euphrobia 'Ascot Rainbow'
Carex 'Firefox'
Sedum 'Angelina'
Rosmarinus 'Chef's Choice'
Yucca gloriosa 'Variegata'
If your containers need a new look for fall we'd love to help. Call or text Beth at (919) 619-4460 or complete our contact form.