When I was a kid, I learned to make wreaths from my next door neighbor. We used her grapevines to make holiday wreaths. Read on to learn more about plants you can make wreaths from.
Decorated Vine Wreaths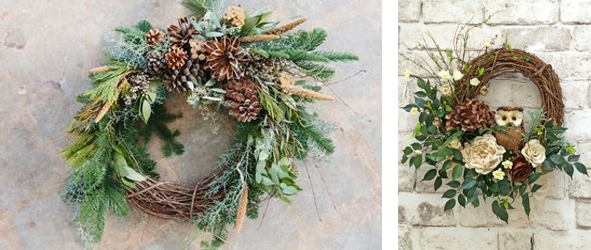 For a vine wreath, feel free to harvest grapevines, wisteria, or kudzu from the woods. If you want to use a landscape plant, try Vaccinium (Blueberry Bush) or Salix (Weeping Willow). These plants have thin, delicate stems that are easy to bend and weave. Once you form the wreath, decorate it with dried herbs, flowers, seed pods, pine cones, or hips from your garden. The season will dictate what types of decorations are available in your yard.
Homemade Evergreen Wreath

Evergreen wreaths are nice for holiday decorating. You can make a simple wreath out of boxwood (Buxus) and add a bow. For a variety of textures and colors, try mixing evergreen branches and leaves like Ilex (Holly), Magnolia, or Cedar (Juniperus virginiana). It takes approximately 1 to 1 1/2 bushels of 5-inch sprigs to make an 18-inch wreath. I like to use Nandina, Ilex, or Pyracantha to add red berries.
Interested in making wreaths from plants in your yard? Contact Bright Leaf Landscaping at (919) 619-4460 or fill out our online contact form. Design and installation are our expertise, and we are always happy to meet with new clients to discuss potential projects!