I grew up working with my Grandmother in her garden in Virginia.  She had grown up on a tobacco farm in Tennessee and had an amazing capacity for yard work.  The two of us planted hundreds of daffodils – in her opinion they were the best bulb – deer resistant, perennial, and no maintenance.  Over the years I've planted hundreds more daffodils – both for myself and our clients, during the fall.  However, I don't have much experience with bulbs that you plant in the spring.  I decided it was time to learn about these plants – read on to learn more.
Hedychium sp.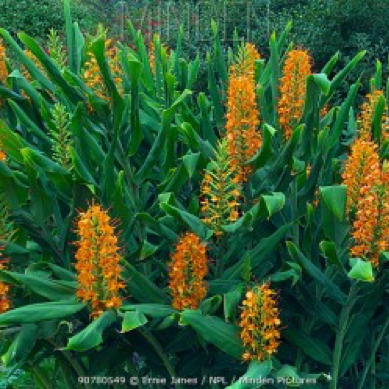 When I started working at Duke Gardens ten years ago I was introduced to several plants that I hadn't grown in Virginia.  One that made a lasting impression was Hedychium or Ginger Lily.  This tropical looking perennial is cold hardy to zone 7, late summer blooming and fragrant.  Because it's sold primarily during the early spring months as a mail order plant I haven't tried it in my own yard yet – but now I'm looking to find the perfect spot.  Several varieties are for sale locally at Plant Delights Nursery in Raleigh:
https://www.plantdelights.com/collections/hedychium-ginger-plant
Strelitzia reginae – Bird of Paradise

My husband and I were lucky enough to take a great trip to Mexico last summer and as on all international trips I was so excited to see plants that were new to me.  Strelitzia reginae – or Bird of Paradise blew me away.  The leaves reminded me of the Cannas that we can grow here in North Carolina, but the flowers we a sculptural masterpiece.  While this plant is not cold hardy to any part of North Carolina, I've put it on my wishlist to plant in a container next summer.  I'll plan to bring it indoors over the winter and hopefully it will survive!
Need help with a gardening project at your property?  Contact Bright Leaf Landscaping at 919.619.4460 or fill out our online contact form at https://www.brightleaflandscaping.com/contact-us/. Design and installation are our expertise, and we are always happy to meet with new clients to discuss potential projects!