Step stone paths are a great option for a walkway. Size, spacing, and material are important considerations. Read on to learn more about my suggestions for step stone paths. Step stone size is a key factor to a functional path. I commonly see 1×1 step stone pavers that drive me crazy. They are too small and are less visually impactful. I suggest choosing step stones that are approximately 2' deep by 3' wide for a comfortable walk.
Manmade Paver Step Stone Path with Unnatural Color and Size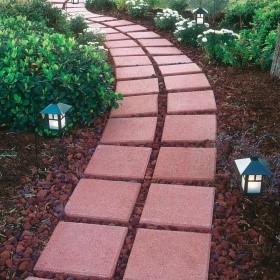 Step stone spacing is another important element to a functional path. Placing the step stones too close makes it awkward to walk. I suggest spacing the 2'x3' step stones about 2.5' from each center. You'll naturally land in the middle of the step stone with each pace.
Natural Step Stone Path with Proper Size and Spacing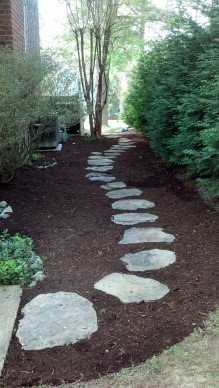 Step stone material is a big choice to make. I suggest choosing a natural stone for your path. You can easily find the size and color you want. The stone comes in irregular shapes that provide a more natural appearance. You can also choose cut stone with rectangular shapes for a formal or modern look.
Are you considering a step stone path with your next planting? Contact us at 919.619.4460 or fill out our online contact form. Landscape design and installation are our expertise, and we are always happy to meet with new clients to discuss potential projects!