I used to take walks on the American Tobacco Trail since it's close to my house. During the 2020 pandemic, I started walking along the neighborhood streets to avoid the crowded trail and began to pay more attention to the front yards. Read on to learn about some cool finds on my neighborhood walks.
Textures and Sculptures
This terraced front yard is packed with seasonal interest. Yucca and Agave provide texture and color in the winter. The garden is highlighted with an adorable teddy bear sculpture with a unique weeping evergreen specimen tree backdrop.
Edible Front Yard and Plant Share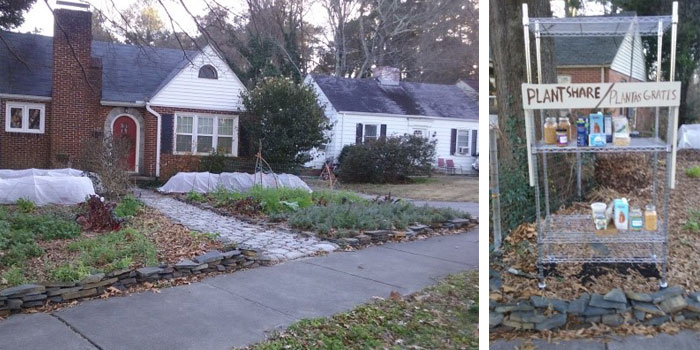 This front yard is an edible garden within low stone walls. Despite being under a huge oak tree, I've been pleasantly surprised to see this garden flourish with an abundance of food all year long. The homeowner put a shelf at the sidewalk advertising "Plant Share". Seasonally, the shelf offers seeds, seedlings, fresh produce & herbs, and boxed & canned food.
Inspired by gardens in your neighborhood and looking for a design? Contact Bright Leaf Landscaping at 919.619.4460 or fill out our online contact form. Design and installation are our expertise, and we are always happy to meet with new clients to discuss potential projects!