Edible gardening gained momentum during the pandemic in 2020. I watched as neighbors spent time planting fruits, veggies, and herbs for the first time. Read on for my tips for new gardeners.
New 4'x8' Raised Bed
 Location is an important factor for growing an edible garden. One tip is to choose the sunniest spot that is closest to your house and water access. For first-time gardeners, I suggest starting with one 4'x8' raised bed to get a sense of the maintenance requirements and the abundance of food it provides. Choose a spot where there's room to add new beds over time, keeping them all in one nearby location.
Edible Planting in Existing Beds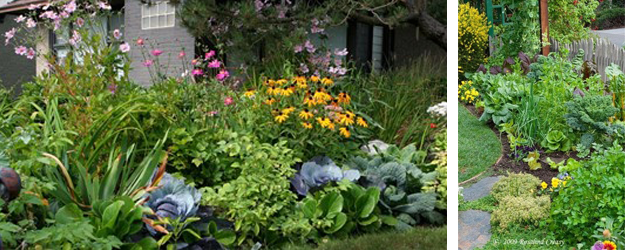 Another tip for new gardeners is to use your existing beds to grow food. You can utilize your existing beds by creating a 1-2' border space along the edge. This area can be planted seasonally with lettuce, spinach, arugula, onions, and garlic or permanently with evergreen herbs like thyme and oregano that will form a groundcover.
Interested in incorporating edible plants into your landscape? Contact Bright Leaf Landscaping at 919.619.4460 or fill out our online contact form. Design and installation are our expertise, and we are always happy to meet with new clients to discuss potential projects!