As the summer weather heats up it's important to select plants that can tolerate our high temps and humidity and keep your containers looking great all season long. Read on to learn about my formula for container plantings in hot and dry locations.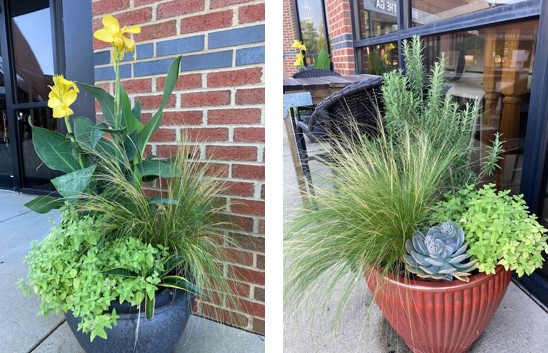 (Two containers at Piper's in the Park in Durham. Left: Canna, Nasella, Nepeta, and Mangave. Right: Rosemary, Nasella, Nepeta, and Echeveria.)
If you need a container planting for a summer hot spot consider this tried and true combination – herbs, succulents or tropicals, and ornamental grasses. Focus on selecting plants that have foliage contrast in either color or texture – ideally both! Flower production tends to slow down in the summer, so focusing on foliage keeps your containers looking great and any flowers just add to the interest.
If you need help designing a container planting this summer we'd love to help! Reach out to Beth at 919.619.4460 or complete our contact form.