Like a lot of design elements, statuary in a garden can be dramatic and interesting or just seem misplaced and odd depending on how it is incorporated into the overall design of the space.  One lesson that I learned in design school is that any statuary elements, including fountains, potted plants, etc. should add to a space that already has a strong planting composition, rather than be the element that makes the composition work.  In other words, these elements can be the icing on the cake, but the cake had better be pretty good on its own.  Read on to learn more about adding statuary to a garden.
My baby giraffe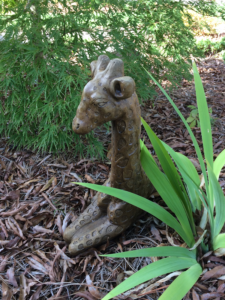 Adding Whimsy
There is a property in my neighborhood that I have envied for years, because of their intriguing use of garden statuary.  The plantings are simple but interesting – mature Crape Myrtles, a dense groundcover of Liriope, and an interesting mix of shrubs that border the house – the addition of three copies of the famous Easter Island Statues takes the space to a new level.  I've always wondered about the family that lives here. Have they traveled to Easter Island?  Just thought the statues were interesting?  Seeing this garden always brings a smile to my face.
I've wanted to do something similar on my own property for years and finally got the chance when I received a baby giraffe statue for Mother's Day.    My next step was to find the right spot – which is peeking out from under a weeping Japanese Maple and looking over a boulder that I've sunk into the ground.  As the plants continue to grow the statue will become more nested into the space – a fun surprise for anyone coming up my front walkway.
Statuary throughout the Asiatic Arboretum at Duke Gardens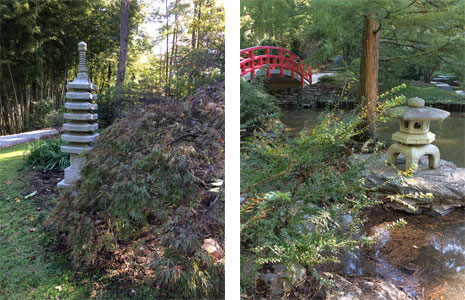 Reinforcing the Garden Concept
Alternatively, you may choose to add garden statuary not to surprise but to reinforce the design concept of your garden.  The Asiatic Arboretum at Duke Gardens is a great example of this – incorporating several snow lanterns, pagodas, and bamboo fountains throughout the garden.  Whether tucked around a corner in the path, or placed prominently these elements remind the garden stroller that they are in an Asian garden, almost on an exciting trip though still here in North Carolina.
When adding statuary to your garden, take the time to fully incorporate the new design element into your space.  Need help finding the right spot?  Contact Bright Leaf Landscaping at 919-619-4460 or fill out our online contact form. Landscape design and installation are our expertise, and we are always happy to meet with new clients to discuss potential projects!