One of my favorite types of designs to work on are woodland gardens. Clients with a wooded landscape may have concerns about deer and shade. Fortunately, there are numerous plant options with deer resistance and shade tolerance. Read on to learn about a few plants that I like to incorporate into a woodland setting.
Autumn Fern (Dryopteris erythrosora 'Radiance')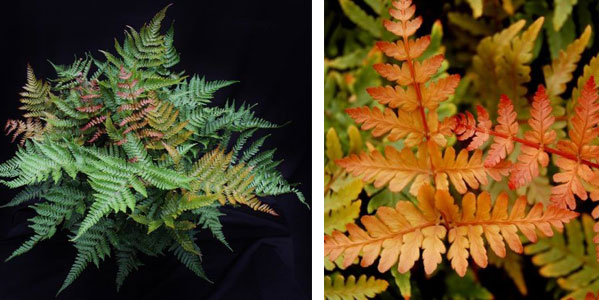 I love ferns because they remind of North Carolina forests. I often use ferns for a low growing perennial in a shady woodland garden. I like to use a mix of Autumn Ferns, Christmas Ferns, and Holly Ferns. These ferns are great for evergreen coverage, deer resistance, fall color, and glossy leaves.
Oakleaf Hydrangea in Summer and Fall (Hydrangea quercifolia 'Alice')
A great NC native plant for a wooded yard is Oakleaf Hydrangea (Hydrangea quercifolia). This is a nice choice for a sunny spot along the edge of the woods. H. quercifolia offers better fall color with more sun exposure, but can tolerate shade. Some cultivars of Hydrangea quercifolia that I like are 'Alice', 'Pee Wee', and 'Snow Queen'.
Evergreen Anise in bloom (Illicium 'Woodland Ruby')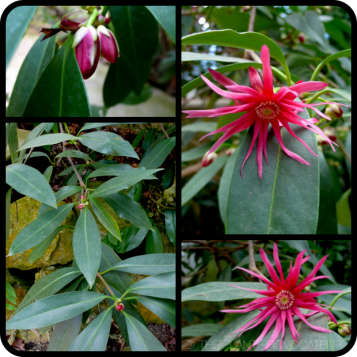 For an evergreen shrub in a woodland setting, I'd suggest incorporating Illicium 'Woodland Ruby'. It's a good choice for deer resistance, shade tolerance and winter hardiness. This plant can be used along a foundation or as a screen, reaching 8 feet tall and 6 feet wide. Woodland Ruby Anise has fragrant reddish pink blooms with strap-like petals. For a smaller cultivar, try Illicium 'Miss Scarlet' (6' Tall x 4' Wide).
Interested in incorporating plants into your woodland setting? Contact Bright Leaf Landscaping at 919.619.4460 or fill out our online contact form. Landscape design and installation are our expertise, and we are always happy to meet with new clients to discuss potential projects!